[one_half]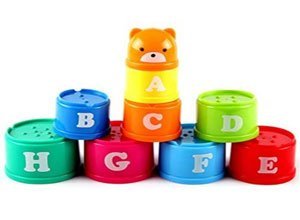 [/one_half][one_half_last]

Deal Price.:$4.72
[/one_half_last]
---
Product Details
Stacking & Nesting Cups with Numbers and ABC Characters– Water and Sand Play with 9 Colorful Pieces
Stacking & Nesting Cups: 9 pieces in one set. All of them are assorted colors. The largest cup diameter is 7.5cm and the height is about 38cm high.

The brightly colored, nested cups are made from tested high-quality materials. Each cup (except the smallest cup) has a corresponding letter (ABC) and Numbers on it.

This nesting cups helps develop children's hand-eye coordination. And learn about the Alps ABC and count 1-8. And this color is very popular with children.

Can be played within the tub or at the beach, they are also bathtub toys, a great choice in the playgroup and kindergarten classroom, or at the therapist.

Use of children aged 3 and above.