Amazon offering a deal on Philips 6-Outlet Surge Protector. Shipping is free w/Prime or on orders of $25 or more.
---
---
Product details
Philips 6-Outlet Surge Protector
Power More – Turn 2 outlets into 6 with the Philips 6 Outlet Surge Protector Outlet Adapter that can power your home or office electronics
Charging Station – Create a charging hub for your portable devices by plugging chargers into these 3 prong outlets to keep your cell phone, tablet, Bluetooth speakers, Nintendo Switch, smartwatch, or Fitbit fully powered
Space Saving – Surge protection can be sleek with this slim outlet adapter wall tap to power and protect your devices right from the outlet
Protection – Keep cell phones, tablets, Bluetooth speakers, lamps, and computers safe from circuit overload with a 900 Joules Surge Protection rating
Rating – This wall tap is ETL Listed and has an electrical rating of 125V AC, 15A, 1875W
Product Description
Get six times the power with the Philips 6 AC Wall Tap. Featuring six grounded AC outlets, the wall tap transforms your regular outlet into an efficient charging station. The space-saving design of the wall tap is ideal for any room in your home, regardless of size or setup.
In the event of a surge, the wall tap includes 900 joules of surge protection to keep your connected devices safe from damage, while the LED indicator light stays on to let you know your surge protector is functioning properly.
Use the wall tap as part of your permanent home or office setup or, for holidays and special occasions, create a centralized location for powering a room's worth of electronic lights and decorations. Prioritize all of your devices at once with the Philips 6 AC Wall Tap.
---
Philips 6-Outlet Surge Protector 900 Joules At $8.59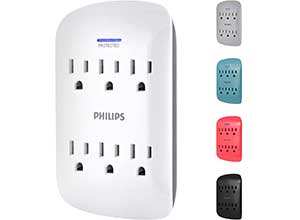 Philips 6-Outlet Surge Protector - Turn 2 outlets into 6 with the Philips 6 Outlet Surge Protector Outlet Adapter that can power your home or office
Product SKU: B076JJ3N1T
Product Brand: Philips
Product Currency: USD
Product Price: 8.59
Product In-Stock: InStock
Philips 6-Outlet Surge Protector 900 Joules At $8.59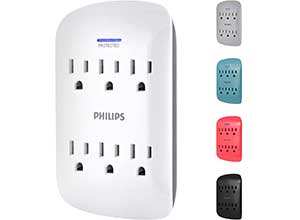 Philips 6-Outlet Surge Protector - Turn 2 outlets into 6 with the Philips 6 Outlet Surge Protector Outlet Adapter that can power your home or office
Product SKU: B076JJ3N1T
Product Brand: Philips
Product Currency: USD
Product Price: 8.59
Product In-Stock: InStock