[one_half]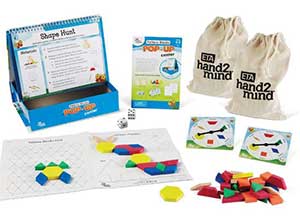 [/one_half][one_half_last]

Deal Price.:$18.80
[/one_half_last]
---
Product Details
Math Games With Pattern Blocks For Kids Ages 5-8
STUDENT TESTED, TEACHER APPROVED MATH GAMES: Students can use this pattern blocks kit to recognize, identify, and classify shapes while gaining mathematical skills (up to 4 children).

INCLUDES EVERYTHING YOU NEED: Pop-Up easel box, 120 pattern blocks (20 of each type), 2 drawstring bags, 2 dice, 2 spinners, 1 worksheet, and 1 teacher's guide. Jump right into this pattern blocks pop-up center educational game kit that can be played at home or classroom centers with 10 learning activities.

SIMPLE MATH: Activity cards are shown on both sides so everyone at the table can easily see. It's a simple way to learn graphing, spatial reasoning, critical thinking, and symmetry.