Amazon Offering a deal on Ice Maker Machine for Countertop. Clip inpage 5% coupon to get it for $109.24. Shipping is free.
---
---
Product Details
Ice Maker Machine for Countertop
Compact Ice Maker and Wide Applications: This countertop portable ice maker has wide applications with compact size 12.3(D)*8.7(W)*12.6(H) inches. With a portable and compact design, our countertop ice maker is easy to carry and operate. It has wide applications, whenever and wherever you are, ice is there. You can perfectly use it for bar, tea shop, KTV, kitchen, and office.
Efficient and Quiet Ice Making: our ice maker produces 9 ice cubes within only 6-8 minutes.It even can produce up to 26.5 pounds of ice per day, which enables you to have fresh and good ice every day. Also, this is not noisy, our ice makers countertops are equipped with a quick and quiet cooling system. This not only helps you save energy, but it also keeps the nugget ice machine cool and ensures a quiet environment.
Multiple Functions: Our ice maker indicators will remind you to take out the ice cubes when the basket is full and inform you to add the water when the ice maker lacks water.
Bullet-shaped ice cubes: Our portable ice maker has two sizes (small & large) of ice cubes available to be selected, which are always used to cool drinks and food. And it produces round and smooth bullet-shaped ice, it will not hurt your hands, which are always used to cool drinks and food.
Healthy ice cube to use: Our ice maker is different from others, the top cover with a transparent window, you can see directly through it. It can produce more pure ice cubes. So It can offer healthy ice cubes for you, ensuring your eating safety.
Product Description – Counter top ice maker
Intelligent control button
Simple operation and intuitive display. Remind you when the ice is full or when there is a lack of water.
Make ice at top speed
This quick-acting device means your drink never warms up. Make 9 ice cubes quickly in 6-10 minutes. Select the small or large ice cube setting depending on your size preference.
Ice size is optional
Press the on button, you can choose the size of ice, which is suitable for you to choose the size of ice, small ice for drinks, large ice for wine, very human function.
Ice Basket & Ice Scoop
To make ice, just take the ice basket out and transport it to the place where the ice is needed. Easily fill the glass with ice with an ice scoop. It's very convenient.
Chilled drinks are fresh
Allow you to enjoy chilled drinks anytime and anywhere to keep the fresh taste.
---
Related Posts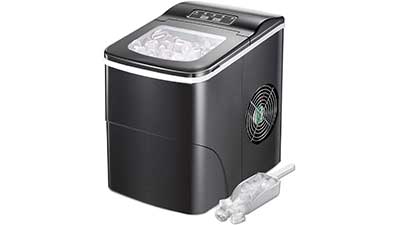 CROWNFUL Ice Maker Machine for Countertop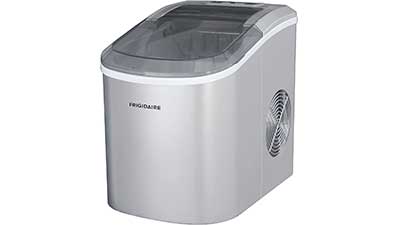 Frigidaire EFIC189-Silver Compact Ice Maker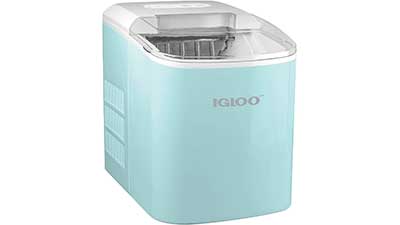 Igloo ICEB26AQ Automatic Portable Electric Countertop Ice Maker
---
Ice Maker Machine for Countertop At $109.24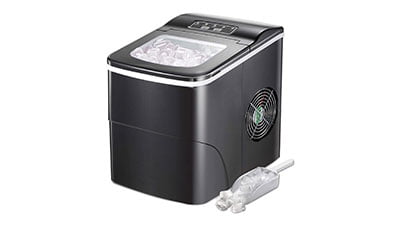 Ice Maker Machine for Countertop - Produces up to 9 pieces of ice cubes in just 8-10 minutes and holds up to 70-80 ice cubes. 12-month warranty
Product SKU: B08FZYMWJT
Product Brand: AGLUCKY
Product Currency: USD
Product Price: 109.24
Product In-Stock: InStock