Amazon Offering a deal on Earth Rated Dog Poop Bags Extra Thick and Strong. Shipping is free w/Prime or on orders of $25 or more.
---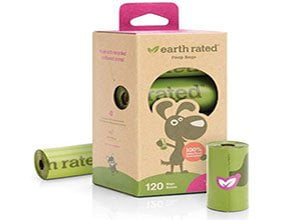 Deal Price:$7.99
Regular Price: $8.99
Discount: $1.00  (11%OFF)

---
Product description
Earth Rated Dog Poop Bags Extra Thick and Strong
9"x13" doggy bags keep your hands safe, and odor contained. More than enough capacity for large dogs! A customer recently said "I love these bags – much thicker than the ones you buy at the store. The scent is not overpowering."
EARTH FIRST, PROFIT SECOND: 120 premium pet poo bags are included in each order. A total of 8 rolls that each include 15 dog bags and a 100% leak-proof guarantee. We use recycled materials in our packaging and roll cores because details matter.
STRESS-FREE WALKS: Poop doesn't smell like roses: Our odor-blocking lavender-scent locks in that stank for good without being overpowering. Simple to open and tie securely so you can enjoy a stress-free walk with your best bud. No need to rush!
PAIR WITH DISPENSER: Each bag roll comfortably fits in your pocket, but customers prefer to pair Earth Rated bags with our leash dispenser. Quick and easy access makes this an awesome duo! Let us do the heavy lifting while you tackle your walks in style.
WHY IS EARTH RATED? We're a Canadian company with top-notch customer service, always ready to help! Plus all our products are backed by a 100% satisfaction guarantee! We work closely with animal shelters & rescues across North America donating as many bags as we can.
Product Description
We don't mess around when it comes to poop, which is why you can trust that our bags are leak-proof. Reduce, re-use, and recycle! The three Rs never looked so good. Poop smells like… well, poop.
Our dog bags are lavender-scented so you can smell awesomeness instead. Who wouldn't want that?!
---