Walmart Offering a deal on ZNH Electric Mountain Bike | Ebike for Adults. Free delivery, Free 30-day returns.
---
---
Products Details
ZNH Electric Mountain Bike | Ebike for Adults
Removable Battery: Yes
Recharge Time: 3-4 Hours
UL certificated/UL certificated: Yes
Number of Speeds: Shimano 21 Speed Shifter
Frame Materials: Aluminum Alloy
Motor: 350W High-Speed Powerful Motor
Brake Style: Dual-disc-brakes
Top speed: 20mph(limited)
Load capacity: 300 lbs"
Products Description
Adding more oomph to your ride a battery-powered motor can open up the world of cycling like never before, helping to take the strain out of riding, the best electric bike can bring joy to a huge number of cyclists. Whether you're a returning rider, a newbie cyclist, or just looking for a bit of extra support to keep up every now and then, there will be an electric bike perfect for you.
Sharing its foundations with our electric mountain bike, ZNH Electric Bike 26" 350W Electric Bicycle for Adults with Removable 36V/10.4AH Integrated Battery offers capability with added assistance. The 3500mah battery has a range of up to 37 miles to help you stay at your best, and a charge time of 3-4 hours meaning it can easily be topped up overnight.
When you need it, the rear hub motor delivers speeds up to 20 mph without compromising traction.
---
ZNH Electric Mountain Bike | Ebike for Adults At $699.99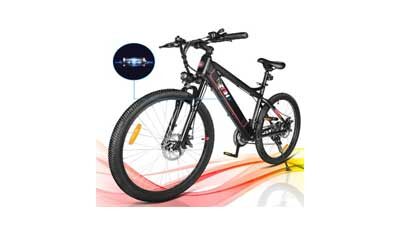 ZNH Electric Mountain Bike | Ebike for Adults - Adding more oomph to your ride a battery-powered motor can open up the world of cycling like never before
Product SKU: 808824160
Product Brand: ZNH
Product Currency: USD
Product Price: 699.99
Product In-Stock: InStock