Amazon Offering a deal on YC DGYCASI Pickleball Paddles Set of 2. Clip inpage 20% coupon to get it for $47.90. Shipping is free.
---
---
Product Details
YC DGYCASI Pickleball Paddles Set of 2
Features brought by the material – Our racket is a honeycomb composite polymer core, which has ideal strength and rigidity, is light in weight, provides a nice bounce, reduces ball deflection, and improves your pitching performance. The YC dgycasi pickleball paddles strike the perfect balance between great gameplay, control, and power.
Superior edge guard – The edge of the racket is protected. When your ball falls to the ground, you don't have to worry about the damage to the noise. You can do your best to complete the game. And the thin edge protection will not give you a sense of weight, so you can balance the process of waving the racket.
Cost-effective suit – If you buy our Pickleball Paddle Set, you will get 2 rackets, 4 balls, and 1 storage bag. Save all your purchases on the field in one go, saving your shopping time. Every YC DGYCASI pickleball paddle is designed to be an excellent pickleball paddle for either a beginner or a professional player.
Comfortable grip – High-quality anti-slip, abrasion-resistant, and durable one-piece grip for maximum comfort. Dgycasi pickleball paddles is perforated, sweat-absorbent, and cushioned, to allow for a better paddle grip, you can have a great experience with the exercise.
COMES WITH 1 BAG AND 4 BALLS – Every YC DGYCASIpickleball set is designed to be a pickleball paddle for either a beginner player. The pickleball set contains 1 Bag and 4 Pickleball balls.
---
YC DGYCASI Pickleball Paddles Set of 2 At $47.90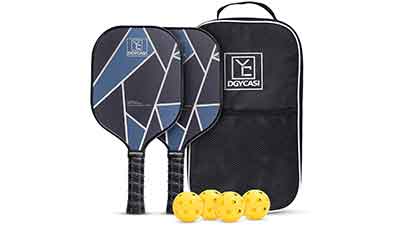 YC DGYCASI Pickleball Paddles Set of 2 - Our racket is a honeycomb composite polymer core, which has ideal strength and rigidity and lightweight
Product SKU: B08DRH73R9
Product Brand: YC DGYCASI
Product Currency: USD
Product Price: 47.90
Product In-Stock: InStock