Amazon offering a deal on Vital Proteins Collagen Peptides. Shipping is free w/Prime or on orders of $25 or more.
---
---
Products Details
Vital Proteins Collagen Peptides Unflavored
Explore Jennifer Aniston's Tips for Wellness —- "My go-to collagen routine is adding Vital Proteins' Collagen Peptides in my morning cup of coffee or smoothie – so easy to use."
Bioavailable Collagen Peptides Powder —- Sourced from grass-fed, pasture-raised bovine to ensure high quality and sustainable source of this powerful ingredient. Digested and absorbed by the body quickly for maximum benefits.
Health Benefits —- Original Collagen Peptides with Hyaluronic Acid + Vitamin C is Vital Proteins exclusive product. Supports healthy hair, skin, nails, joints, ligaments, and tendons**.
Certifications —- Non-GMO. Paleo Friendly & Whole30 Approved. No added sugars or sweeteners. Gluten, cholesterol, heavy metals, and dairy-free. Flavorless, odorless.
20g Collagen Powder per Serving —- Provides 14 daily servings at 20g per serving. Each container is filled with exactly 10 oz of collagen powder, empty space inside is reserved for the measuring-scoop.
Product Description
Lids may vary for the 9.33oz and 20oz Collagen Peptides. There will no longer be a perforated rip tie. The contents of the product remain unchanged and the product has not been opened.
Vital proteins collagen peptides Use
Collagen is found in all of our connective tissues, tendons, ligaments, and bones with its purpose being to provide these body parts with their strength, structure, and elasticity.
Our body's natural collagen production begins to decline by about 1-2% around the age of 25, which is why we recommend introducing ingestible collagen to your diet. We source our grass-fed, pasture-raised bovine hide from Brazil to ensure a high-quality and sustainable source of this powerful ingredient.
Benefits of collagen peptides
Original Collagen Peptides with Hyaluronic Acid + Vitamin C is VitalProtein exclusive product. Collagen supports healthy hair, nails, skin, and joints**; Vitamin C helps promote the body's natural collagen production and promotes a more youthful appearance**.
Our collagen contains 18 amino acids and is characterized by the predominance of glycine, proline and hydroxyproline. This very specific composition of amino acids provides Vital Proteins' collagen with functional properties that can not be found with other protein sources.
---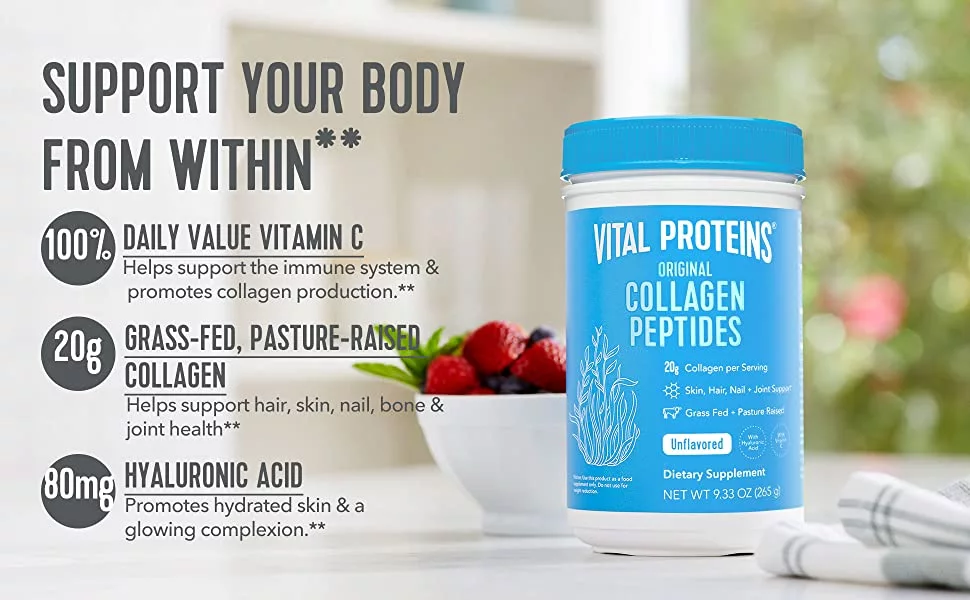 ---
How to take collagen peptides?
Collagen supplement is easily digested and soluble in hot or cold liquids. Add to food (like sweets or sauces) or beverages (like coffee, smoothies, or water) to give you the boost you need.
One of the most popular ways Vital Proteins fans use the collagen powder is by scooping and stirring it into their morning coffee.