Walmart Offering a deal on TP-Link Tri-Band Mesh Wi-Fi Router System | up to 2,200 Mbps Speeds. Free delivery on $35+ orders, Free pickup today.
---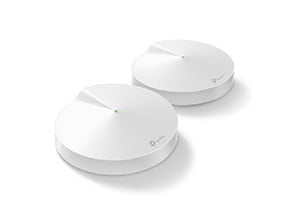 Deal Price:$149.99
Regular Price: $299.99
Discount: $150  (50%OFF)

---
Products Details
TP-Link Tri-Band Mesh Wi-Fi Router System
TP-Link Deco M9 Plus Whole Home Mesh Wi-Fi System
Whole-Home Coverage: Cover up to 4,500 sq. ft. with seamless, high-performance Wi-Fi and eliminate dead zones and buffering
Faster Tri-Band Speed for More Devices: Three Wi-Fi bands with dynamic backhaul by TP-Link Mesh support up to 100 devices and keep all of them running at top speed
Intelligent Wi-Fi Network: Create a single Wi-Fi name and password for your entire Deco M9 Plus network and receive the best possible connection as you walk from room to room
Built-In Smart Hub: Deco M9 Plus directly connects your favorite ZigBee, Bluetooth, and Wi-Fi smart home products, enabling you to control all of them through the intuitive app
Protect Your Smart Home: Safeguard your home network and every connected device against intruders, viruses, and malware with advanced Wi-Fi encryption and comprehensive antivirus powered by Trend MicroTM3
Easy Setup and Management: The Deco app helps you set up your network in minutes with clear visuals and keeps you in control even when you aren't home
Control Wi-Fi for Your Family: Manage, limit, and monitor internet use with controls that enable you to customize Wi-Fi access for every person and device in your home
Works with Alexa: Pair with Alexa to add devices, turn on your guest network and run a speed test with your voice
Universally Compatible: Ideal for any internet plan up to 1 Gbps, works with any internet service provider (ISP) and modem
Products Description
TP-Link Deco M9 Plus Whole Home Mesh Wi-Fi System is the simplest way to guarantee a strong Wi-Fi signal in every corner of your home. Enjoy fast and secure tri-band Wi-Fi no matter how many devices you have.
Deco M9 Plus is much more than just a Wi-Fi system, able to act as a hub for all your smart home devices. Simply works with a variety of Zigbee, Bluetooth, and Wi-Fi devices. Two units deliver up to 4,500 square feet of tri-band AC2200 Wi-Fi so you can stay connected whether you're moving from room to room or to areas with a weak signal.
---
TP-Link Tri-Band Mesh Wi-Fi Router System At $149.99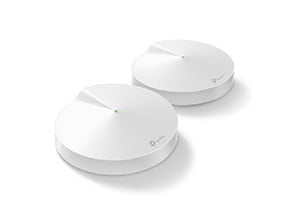 TP-Link Tri-Band Mesh Wi-Fi Router System - Cover up to 4,500 sq. ft. with seamless, high-performance Wi-Fi and eliminate dead zones and buffering
Product SKU: 880852538
Product Brand: TP-LINK
Product Currency: USD
Product Price: 149.99
Product In-Stock: InStock