Walmart Offering a deal on Sylvania 10.1 quad core tablet DVD player Headphones. Free pickup today, Delivery not available. Free 90-day returns.
---
---
Products Details
Sylvania 10.1 quad core tablet DVD player Headphones
10.1″ Android 10.0 go tablet/DVD combo
Built-in DVD player allows you to play DVD, VCD, CD, MP3 Compatible disc
Includes Premium Bluetooth(r) Headphone
Play games from the built-in Google play store or media from popular video streaming apps
Powerful 1.3GHz Quad-coremtk8167 arm cortex A53 processor
16GB of onboard storage to pre-download media from streaming services
RAM: 1GB DDR3
10 point multi-touch screen, 1024 X 600 IPS resolution
Google voice search
Bluetooth(r)
Aspect ratio 16:9
Two Built-In Speakers
0.3MP front camera
Wi-Fi ready: 802.11 B/G/N
Micro usb port and USB5V/2A charging
Micro TF port
Built-in Microphone
3.55mm earphone jack
G-sensor
4 Hr. rechargeable lithium-ion battery: up to 6 hours of tablet runtime & Up to 3 Hours DVD runtime
Accessories: car charger and USB cable, Headphone
Product Description – sylvania quad core tablet
Sylvania loaded up this model with a host of awesome features. From the built-in DVD player to the powerful 1.3GHZ Quad-Core processor, you can use this tablet/DVD player for fun and for work at the touch of a button. It even comes with premium Bluetooth(r) headphones! Use anywhere there is Wi-Fi.
The onboard memory is 16GB. Comes with a built-in camera. With the Google Play app so you can start shopping, downloading, and listening right out of the box!
---
Sylvania 10.1 quad core tablet DVD player Headphones At $79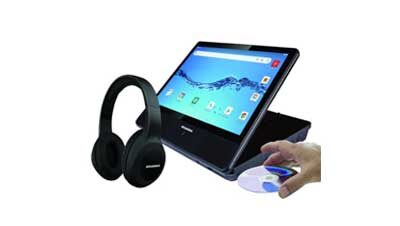 Sylvania 10.1 quad core tablet DVD player Headphones - Built-in DVD player allows you to play DVD, VCD, CD, MP3 Compatible disc, Headphones
Product SKU: 603823249
Product Brand: Sylvania
Product Currency: USD
Product Price: 79.00
Product In-Stock: InStock