Killer Creamery Offering a Free sample of Sugar Free Ice Cream Sandwiches. Please complete the form and we will notify you when your sample has shipped. Limit one per customer and household.
---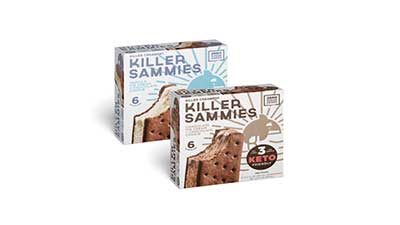 Deal Price:$Free

---
Product Details
Sugar Free Ice Cream Sandwiches
Get a voucher for a FREE box of Keto-Friendly Ice Cream Sandwiches, 21 fl oz.
Pick up at a store near you
Value up to $9.00
Offer available to residents of United States
Product Description
Killer Creamery's mission is to provide communities with a healthy, sugar-free dessert that can be enjoyed by people regardless of their diet or lifestyle. Sugar is not the occasional commodity it once was, it is everywhere in everything.
As a society, we consume an unhealthy amount of sugar and we now know that this can lead to obesity, inflammation, insulin resistance, and other metabolic issues.
They strive to provide their customers with a guilt-free, healthy dessert while giving back to our community and the causes they are passionate about. They are doing their part to help build a better body.
---