Walmart Offering a deal on Sky Rider Thunderbird 2 Quadcopter Drone with Wi-Fi Camera. Shipping is free.
---
---
Product Details
Sky Rider Thunderbird 2 Quadcoptor Drone with Camera
Dimensions:10.03 x 10.03 x 3.54 in.
360° flips & tricks
6-axis gyroscope for stable hovering and flying
3 speeds: low, medium, high
0.3MP WiFi camera with 480×640 resolution
2.4GHz remote control
4-channel direction control for improved stability & usability
Control distance: up to 328 feet
Headless mode
Product Description
Dare to fly fast and far while capturing sharp photos and video from the built-in camera. Take flight and see the world around you from a bird's eye view in real-time. With a control distance of up to 328 feet, feel free to explore the skies and show your flight control by performing flips and tricks. Take breathtaking photos of the landscape and share them with your friends and family.
---
Sky Rider Thunderbird 2 Quadcoptor Drone with Camera At $24.97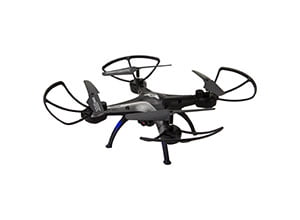 Sky Rider Thunderbird 2 Quadcoptor Drone with Camera - 10.03 x 10.03 x 3.54 in. 360° flips/tricks, 6-axis gyroscope for stable hovering and flying
Product SKU: 324263281
Product Brand: Sky Rider
Product Currency: USD
Product Price: 24.97
Product In-Stock: InStock