Amazon offering a deal on Premium Saltine Crackers Family Size 3 Boxes. Shipping is free w/Prime or on orders of $25 or more.
---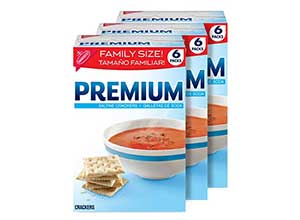 Deal Price:$9.66

---
Product Details
Premium Saltine Crackers Family Size 3 Boxes
Three family Size boxes of Premium Saltine Crackers, 6 packs per box
Crisp, square-shaped crackers topped with sea salt
Perfect to pair with soups, stews, and chili
Top with peanut butter or cheese for a delicious snack
70 calories per serving
Product Description
Premium Saltine Crackers are the original Saltine Crackers. Topped with coarse sea salt, Saltine Crackers are the perfect salty and crunchy compliment to so many dishes. Enjoy these sea salt Crackers dipped or crumbled into your favorite stews, soups, or chili.
Premium family-size snack crackers also make a great light, salty snack on their own or when you add cheese or peanut butter. Premium Saltine Crackers contain no cholesterol, have 0 grams of trans fat per serving, and no saturated fat for only 1.5 grams of total fat per serving.
Stay stocked up on your favorite Salted crackers with this bundle of 3 family-size boxes.
---