Walmart Offering a deal on Petrainer PET998DR1 Dog Training Collar. Free delivery. Free Pickup not available.
---
---
Product Details
Petrainer PET998DR1 Dog Training Collar
Collar Size: Able to fit small, medium, large dogs and puppies.15 lbs or Larger. Durable and adjustable Nylon Collar Length from 14 to 24 inches long
Includes one collar, Remote Transmitter can control up to two collars. (Extra collars are sold separately)
Uses: Basic dog obedience, barking, hunting, digging, aggressive, jumping up, bolting etc
Battery Type: Rechargeable Lithium Batteries for Collar Receiver and Remote Transmitter
Rainproof receiver for bad weather training
Range: 330 Yards/990 Feet
Tone/Vibration Options: 100 Levels of Vibration and 1 Level of Standard Tone
Stimulation Levels: 100 Levels of Static Shock
Power saving design with Automatic Standby and Memory Function
Light Mode to assist seeing a dog in low light conditions
Easy to operate and ergonomic Transmitter
Effective and safe training system with Auto-Protect Mode
Product Description – Petrainer collar
The petrainer dog training collar PET998DR1 is the perfect introductory system for someone with no dog training collar experience. It's inexpensive, reliable, and effective while providing all the features a higher-priced model offers.
Dog shock petrainer shock collar PET998DR1 with remote offers a user the best e-collar features, which are: vibration, shock, beep, and light. Finding the correct stimulation to help your dog become more obedient is easier than ever, due to our 100 levels of static shock and vibration.
With a 330 yard range, it's perfect for training indoors, in your backyard, or when taking walks in the park. Design-wise, it's simple, easy to use, and makes the learning process straightforward for a new user.
---
Petrainer PET998DR1 Dog Training Collar At $23.99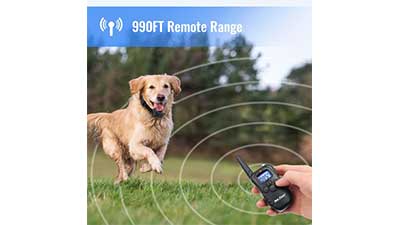 Petrainer PET998DR1 Dog Training Collar - Able to fit small, medium, large dogs and puppies.15 lbs or Larger. Durable and adjustable Nylon Collar
Product SKU: 194907319
Product Brand: Petrainer
Product Currency: USD
Product Price: 23.99
Product In-Stock: InStock