Amazon Offering a deal on Panasonic HomeCHEF 4-in-1 Microwave Mulit-Oven. Shipping is free
---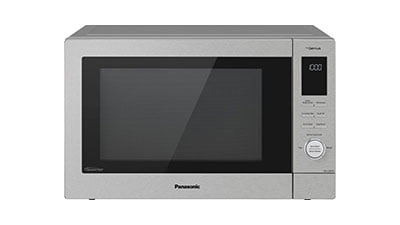 Deal Price:$549.99

---
Product Details
Panasonic HomeCHEF 4-in-1 Microwave Multi-Oven
The Ultimate All-in-One Oven
It's a microwave, broiler, air fryer, and convection oven all in one! Use each function independently or a combination to cook an array of meals with delicious results.
Healthy Air Fryer
Quickly circulates hot air around food-producing crispy, brown results, no pre-heat required. French fries, nuggets, and wings are crispy and delicious with fewer calories.
A Second Oven
Convection Bake function ranges from 100° & 215° to 425°F, with or without preheat, for baking and roasting. FlashXpress Broiler is perfect for toasting, browning, and crisping.
Inverter Microwave
Panasonic's patented inverter technology for smart, even defrosting, reheating, cooking, and keeping food warm. With Genius Sensor Cook, Turbo Defrost, and dedicated setting
Sleek, Space-Saving Design
Large capacity with small overall footprint, 22" W x 13.4" H x 17" D with a 14.2" turntable. Sits on your countertop or can be built-in with an optional trim kit (NN-TK81KCS)
Enjoy evenly heated meals with consistent flavor
Convection technology uses a fan to circulate heat during the cooking process, effectively minimizing the number of hot spots and cold spots.
Sensor cook technology – Determines when the food is ready and automatically adjusts the cooking time.
PowerGrill – Grilling element cooks crispy food, including pizza, by using 1300W of grill power.A variety of cooking programs to fit your needs
Product Description – Panasonic homechef Microwave
Panasonic microwave oven that does it all, the Panasonic Home Chef 4-in-1 Multi-Oven has four separate functions—Convection Bake Oven, an Air Fryer, a FlashXpress Broiler, and a 1000W Inverter Microwave—to help make every meal a masterpiece. Whether you are doing the most simple reheating or undertaking your next culinary adventure, HomeCHEF lets you savor warm, perfectly-cooked insides and crispy browned outsides.
With 6 possible cooking options to choose from, including combination Convection + Microwave and Broil + Microwave, you'll never run out of options for making fast, flavorful meals. With a roomy 1.2 Cu. Ft interior capacity, the HomeCHEF accommodates a 14.2" turntable—large enough to fit a 9"x13" baking dish or a whole chicken.
Cook quickly and easily using the 1-Touch Genius Sensor Reheat, Turbo Defrost, 20 Automatic Cook Menu Presets. The stainless steel countertop combination oven can also be built-in using an optional trim kit – NN-TK81KCS, sold separately.
---
Panasonic HomeCHEF 4-in-1 Microwave Multi-Oven At $549.99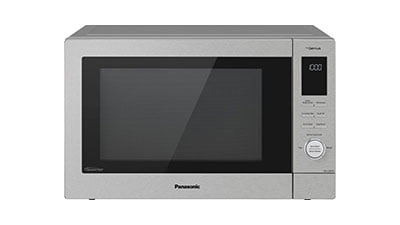 Panasonic HomeCHEF 4-in-1 Microwave Mulit-Oven with Air Fryer, Convection Bake, FlashXpress Broiler, Inverter - Silver.
Product SKU: B085SV35MT
Product Brand: Panasonic
Product Currency: USD
Product Price: 529.95
Product In-Stock: InStock