Amazon offering a deal on Over the sink dish drying rack. Shipping is free w/Prime or on orders of $25 or more.
---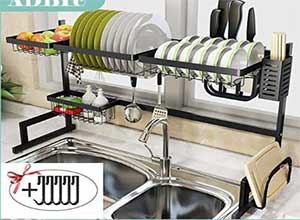 Deal Price:$59.99
Regular Price: $68.50
Discount: $8.51  (12%OFF)

---
Product Details
Over the sink dish drying rack
In November 2020, we updated our stock from a fixed-size 33.5″L version to an adjustable size 33.5″-41″L version, it is a product upgrade. Updated Version with strengthened stainless steel and length-adjustable framework to fit most sinks. If you want to read the related reviews, please select the Recent Reviews from the Customer Reviews page!
Tips Before Purchase -Please carefully measure the size of your sink(IF 32″≤Your Sink Length≤39.5″, it would be the best size; If Your Sink Length<32″ and refer to some reviews, it is okay to have a try) and faucet (Height≤17″) before purchase. Also, mind the cabinet above the sink, the height of this rack is 20.5inch, so make sure there is another 15 or 20inch away from the upper cabinet to place the dishes.
Dimensions – 33.5″ – 41"L x 12.5″W x 20.5″H (Inside dimension: 32"- 39.5"L x 12.5″W x 20.5″H). The length of your sink should be 32″≤Sink Size≤39.5″ and the height of the faucet should be ≤ 17″.
Material – SUS304 Stainless steel covered by black baking finish ensures no rusting, long-lasting durability, and easy clean.
Over the sink dish drying rack package includes Framework, 1 bowl rack, 1 knife holder, 1 fruit & vegetable rack, 1 chopping board rack which could be pot cover holder, 1 dishes rack,1 cutlery holder, 1 glass holder, 1 paper holder, 1 square basket, and 5 hooks. All these parts are adjustable and removable thus you can DIY them to your preferences.
---