Amazon Offering a deal on Microwave Micro-Pop Popcorn Popper. Shipping is free.
---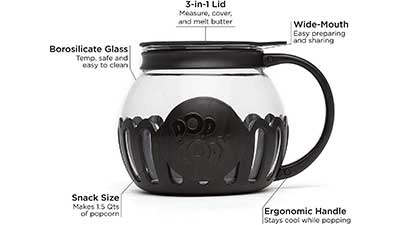 Deal Price:$9.99
Regular Price: $12.99
Discount: $3  (23%OFF)

---
Product Details
Microwave Micro-Pop Popcorn Popper
FAST GOURMET POPCORN: Choose beautiful, durable temperature-safe borosilicate glass for better popcorn popping experiences. No oil or butter needed!. Hot air circulates preventing burning! Melt butter with the dual function lid for gourmet results. Dishwasher safe for easy cleaning. A fun gift idea!
PREPARING AND SHARING: Great for a healthy snack, movie night, the big game or recipes including popcorn. Simply use the dual-function lid to measure the desired serving size, pour into the Micro-Pop, and place in microwave for 3-minutes or less. Hundreds of fun and healthy snack recipe possibilities for your popcorn enjoyment!
MONEY WELL-SPENT: Make homemade popcorn as an alternative to buying expensive single-use prepackaged bags containing unwanted chemicals, ingredients, and calories.
WHY CHOOSE GLASS VS SILICONE?: Watch your popcorn popping for perfect results! Temperature-safe glass resists wear-and-tear and will not absorb acids or chemicals typically produced during use. Glass is made without BPA, hypoallergenic, and thermal shock resistant. Wide-mouth design and an ergonomic handle add versatility and ease of use.
SATISFACTION GUARANTEED: The Ecolution Microwave Micro-Pop Popcorn Popper is designed in the USA. Built to be reusable for many years! Evolution stands for high-quality products and environmental sustainability for over 30-years. Thank you for selecting our brand.
---