Walmart Offering a deal on Little Live Pets Scruff-a-Luvs Babies 2 Pack. Free delivery. Pickup is not available.
---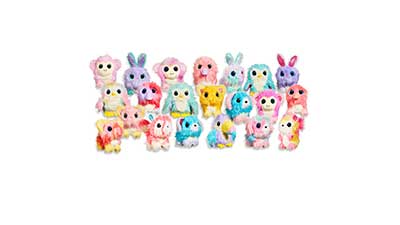 ---
Product details
Little Live Pets Scruff-a-Luvs Babies 2 Pack
Double the love with the Scruff-a-Luv Babies 2 pack! Available Online Only. Includes 2 Scruff-a-Luv Babies in toy carry cases.
New Scruff-a-Luv Babies with new stackable cot carry cases! Which Scruff Baby will you rescue?
Find them scruffy and make them fluffy by first RELEASING them with NEW bottle twist reveal!
NEW Rub to Reveal allows you to Reveal your Scruff-a-Luv Babies without any water!
Turn your babies from Scruffy to Fluffy by grooming them with the included comb! Care for your babies by feeding them with their bottles.
Love your Scruff Babies and rescue them all! There are 21 to collect.
Product description
Get double the love and double the fun with the Exclusive Scruff-a-Luv Babies 2-Pack! Available Online only. Unbox, groom, nurture, and care for 2 new babies! Now with new look stackable cot carry cases! Open up their cute toy carry case and release them by twisting and removing their feeding bottle to reveal who you have rescued.
This season there are 6 new species to collect and they are all SPARKLY! Will you rescue a new Platypus, Penguin or Monkey? Plus now you can reveal your Scruff-a-Luv Babies without using any water with the NEW 'Rub to Reveal!" Brush out their tangles and furry knots with the comb provided to transform them from scruffy to fluffy and find a new little FFF (Furry Friend Forever!)
The Rare Sparkle Series has 21 adorable baby animals to collect including the chance to find 3 Ultra Rare Scruff-a-Luv Babies – Red Panda, Squirrel, and Toucan! Find them Scruffy – Make the Fluffy!
---