Amazon Offering a deal on Listerine Total Care Anticavity Fluoride Mouthwash. Shipping is free w/Prime or on orders of $25 or more.
---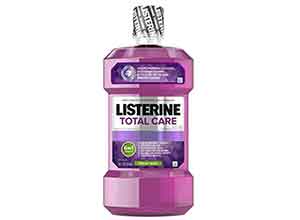 Deal Price:$6.89
Regular Price: $9.23
Discount: $2.34 (25%OFF)

---
Product Details
Listerine Total Care Mouthwash
1-liter of Listerine Fluoride Anticavity Mouthwash in fresh mint flavor to improve oral health by helping to prevent cavities, strengthening teeth, and leaving a refreshing, clean feeling you can taste
Fluoride-rich mouthwash offers six dental hygiene benefits in one oral rinse to kill germs that cause bad breath, strengthen teeth, help prevent cavities, restore enamel, clean your mouth and freshen breath
Anticavity mouthwash freshens breath while helping to make teeth 50% stronger than brushing alone, according to laboratory studies
Help protect your mouth by adding a 60-second rinse of this powerful anticavity mouthwash to your morning and evening oral care routines
With approximately 7 weeks of supply, this multi-benefit mouthwash helps prevent tooth decay and is accepted by the American Dental Association's (ADA) Seal of Acceptance Program
The Benefits of Mouthwash
Listerine is the next step to ensuring a healthier mouth. Focusing on good oral care habits, and sticking to them, includes regular visits to your dentist, and a daily regimen of brushing, flossing, and rinsing with Listerine. The truth is that brushing reaches 25% of your mouth. Listerine cleans virtually 100%.
The power of the swish fights bad breath bacteria in your whole mouth, including on your teeth, tongue, and gums. Listerine mouthwash should be used twice a day to reach its deep-clean effectiveness. After all, bad breath germs are in your mouth all day, every day, and rinsing twice a day provides 24-hour gum protection. For Listerine rinse to
6 in 1 Benefits
Listerine Total Care Anticavity Mouthwash is a complete mouthwash.* Every member of the family has their very own oral care needs. With six benefits, Listerine Total Care is a simple solution to keep them all taken care of.** Listerine Total Care delivers six benefits to clean your whole mouth, kill bad breath germs, prevent cavities, restore enamel, freshen breath, and strengthen teeth. Listerine Total Care gives your mouth a clean, fresh feeling and taste.
How to Swish
What happens each time you swish properly? Research shows that antimicrobial Listerine mouthwash kills oral bacteria within 60 seconds for a difference you will notice with continued use. In fact, the bad breath bacteria in saliva samples were killed within 60 seconds of coming into contact with Listerine rinse. Don't give germs a fighting chance. Swish the full 60 seconds to make sure you're getting a truly clean mouth.
Cavities: Prevent, Prevent, Prevent.
A cavity is a hole in a tooth that develops as a result of tooth decay over time. Tooth decay is a result of bacterial buildup on the tooth surface. The bacteria use sugars from foods or drinks to produce acid, which over time and left untreated, breaks down the surface of the tooth and creates a cavity. A cavity is permanent damage to the tooth and requires professional treatment to repair it with a filling.
The good news is that cavities are preventable. The best way to prevent a cavity is to maintain a healthy oral care routine, including brushing twice a day, flossing once a day, and rinsing twice a day. Good oral care habits keep your mouth clean and healthy; remove plaque, maintain a healthy diet, and see your dentist at least once every six months.
---