Walmart Offering a deal on LEGO Creator 3in1 Caravan Family Holiday 31108. Free delivery. Pickup is available.
---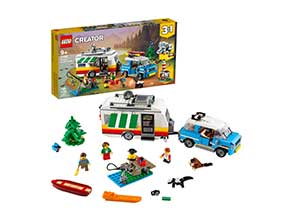 ---
Product details
LEGO Creator 3in1 Caravan Family Holiday 31108
LEGO Creator 3in1's Caravan Family Holiday 31108 toy set encourages kids' creative play, featuring 3 models in 1: A family caravan with the retro car, camper van, or lighthouse. Building and rebuilding extend play endlessly!
Fun possibilities are around every corner! Kids can stretch their creativity and building skills with the detailed caravan and car toy, hop in the camper van for a holiday, visit the lighthouse or build something new
This set gives kids 3 options for play: A LEGO Creator 3in1 Caravan Family Holiday Lego 31108, camper van, or lighthouse. The set also has 3 minifigures and 3 different brick-built animals for extra play fun
Any fan of creative play and building will love this awesome set. The detailed caravan and retro car, camper van, and lighthouse models work as a great gift for boys and girls aged 9+
Ready for adventure? The caravan and retro car model measures over 5" (13cm) high, 13" (34cm) long, and 4" (12cm) wide, meaning this exciting action toy is full of awesome details and big enough for serious fun!
Product Description
Creative camping adventures and fun are waiting for outdoor fans in the LEGO Creator 3in1 Caravan Family Holiday 31108 playset.
The set has a retro car and caravan toy model and features a kitchen, toilet, removable roof and opening side. Packed with accessories and features, the set also includes 3 minifigures to jump-start play. At least 3 different build-and-play experiences are possible with this great LEGO Creator 3in1 toy set.
Kids can build a caravan with a retro car model, then rebuild it into a camper van or a detailed lighthouse. Or they can free their creativity, tap into different passions and build something new.
LEGO Creator 3in1 sets offer kids different models that are realistic and encourage imaginative play. The models give endless building and play opportunities while helping to spark creativity in children of all ages. The awesome toy sets also make great presents for kids.
---