Walmart is offering a deal on Kidkraft Castlewood Wooden Play Set. Shipping is free (90-Day returns).
---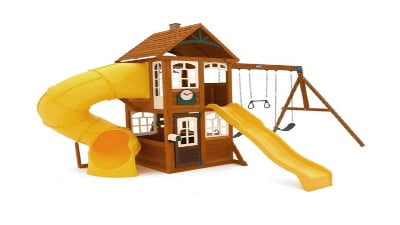 Deal Price:$999.00
Regular Price: $1299.99
Discount: $300.00  (23%OFF)

---
Products Details
Kidkraft Castlewood Wooden Play Set
KidKraft Castlewood Wooden Play Set: 100 percent premium cedar lumber Pre-cut, pre-drilled, and pre-stained lumber with factory-applied, child-safe stain Heavy-duty swing hangers and swing chain Upper clubhouse with premium windows Wooden roof with faux stone chimney Lower clubhouse with working door Clock with moveable hands and chalkboard Mailbox with working flag and door Deluxe kitchen set includes stove, sink and utensil shelf with accessories Play phone 2 Belt swings and acro bar High-rail wave slide Twist n' ride tube slide
Age range: 3 to 10 years Site to Store Pickup Note: This item is packaged in multiple large boxes that may not fit in a standard-sized vehicle. Please make sure you have a large car or truck for store pickup.
Box 1 dimensions: 43.5″ x 21.75W" x 11.25H"; weight: 93 lbs
Box 2 dimensions: 89.5″ x 15.25″ x 9.75″; weight: 135 lbs
Box 3 dimensions: 47.5″ x 22″ x 8.5″; weight: 48 lbs
Box 4 dimensions: 36.5″ x 29.25″ x 20.88″; weight: 68 lbs
Box 5 dimensions: 84″ x 16.5″ x 8.25″; weight: 20 lbs
Products Description – Wooden Play Set
Let kids play and run wild in the backyard with the ultimate play destination, the Castlewood Playset by KidKraft. Big enough for up to 10 energetic kids to play on at once, this giant playset inspires kids to enjoy the fresh air and sunshine as they stay active outdoors. Kids can cook up fun with the play kitchen and included accessories in the lower-level clubhouse.
After pretending mealtime, watch as little ones climb the ladder to get to the top of the clubhouse. Giggles can be heard as kids slide all the way down the twist n' ride tube slide and down the bumpy high-rail wave slide. The solid wood swing set entices little adventurers to soar high on two sturdy belt swings and an acro bar swing.
Built with 100% cedar lumber and treated with a child-friendly water-based stain, the Castlewood Playset by KidKraft is made with high-quality materials and designed to be aesthetically beautiful so that little ones can have big fun in their backyard for years to come.
IMPORTANT: This product is only for use in residential areas and is intended for up to 10 children ages 3 to 10.
---
Kidkraft Castlewood Wooden Play Set At $999.00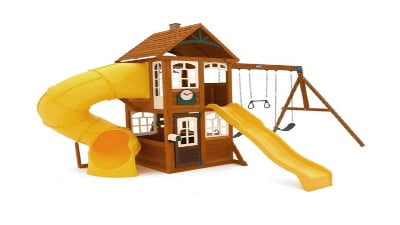 Kidkraft Castlewood Wooden Play Set - Big enough for up to 10 energetic kids to play on at once, this giant playset inspires kids to enjoy
Product SKU: 54466136
Product Brand: Kidkraft
Product Currency: USD
Product Price: 999.00
Product In-Stock: InStock