Walmart Offering a deal on Hot Wheels Mega Hauler Truck.Free 2-day delivery on $35+ orders, Free pickup not available.
---
---
Product Details
Hot Wheels Mega Hauler Truck
Age range: 3+Easy and fun to load and haul your Hot Wheels vehicles
The massive Mega Hauler can carry more than 50 cars
There are even more great features that make this big hauler mega unique– connect to Hot Wheels orange track and roll your cars onto a side-by-side race
Layer upon layer, load your favorite cars, lift and go
Hot Wheels orange truck has a unique design
Product Description
Easily haul dozens of toy cars with the Hot Wheels Mega Hauler Truck. This huge vehicle has enough room to be able to carry up to 50 individual cars.
The Hot Wheels orange truck features six different levels that can be used to transport all of those vehicles. It can be connected right to an orange track so that the cars can be directly unloaded right into side by side racing position.
This will put the cars in the right order for a traditional race. The massive truck will not only be fun to play, with but it provides a convenient way to store and transport tons of cars.
This automobile is a must-have for someone who has a large collection of Hot Wheels cars. The truck can be given as a birthday gift or Christmas present to a child or a collector.
This Hot Wheels Mega Hauler Truck has a unique colorful design to go along with its massive size.
---
Hot Wheels Mega Hauler Truck At $5.99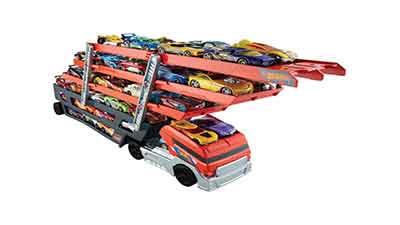 Hot Wheels Mega Hauler Truck-Age range:3,Easy and fun to load and haul your Hot Wheels vehicles, Hot Wheels orange truck has a unique design
Product SKU: 44932288
Product Brand: Hot Wheels
Product Currency: USD
Product Price: 5.99
Product In-Stock: InStock