Amazon offering a deal on Hand Operated Drone for Kids or Adults. Shipping is free w/Prime or on orders of $25 or more.
---
---
Product Details
Hand Operated Drone for Kids or Adults
Ultra-Bright LED Scoot Drone: Fly your very own UFO spaceship toy with this new addition to the Scoot drone family: the Scoot Cosmo! Toss to launch, fly with your hands, enjoy the ultra-bright LED lights and LED kaleidoscope projections on the ceiling and walls during flight
360° Rotating Flight Design: Fly this UFO drone with your hands! Place both hands on both sides of the drone, swipe a hand under when the lights start to blink rapidly and watch this LED drone perform a 360° flip!
Bright Led Light Projection: The crystal dome on top of the mini-drone projects a kaleidoscope of LED lights on the ceiling and a full ring of vibrant blue and green LEDs on the side of the drone lights up as it flies around
High Tech Flight Design: This indoor hover drone for beginners is equipped with powerful motors to fly in all directions; flying with smart, obstacle avoidance motion sensors, simply use your hand to guide its flight and catch this hand drone "hamburger-style" when you're done
Durable And Kid-Safe Webbed Shell Design: This flying toy drone is designed with a non-toxic, high quality webbed shell that protects hands, walls, and furniture from the propellers; this webbed shell also keeps the drone safe from damage as it flies around any indoor space
US-Certified Quality Assured STEM Toy: This UFO drone toy is super easy to fly, making it a great beginner drone for kids and kids at heart ages 8 and up; the drone measures 4.85" D x 1.97" H, includes a USB recharging cable, and flies for 5 minutes with every 45 minutes charge
Product Description
Hand operated drone instructions – These hands-free drones are designed to fly in an indoor flying zone. Bump into a wall? No worries – these indoor UFO drone toys feature a webbed protective shell to keep walls and fingers safe.
Fly this UFO drone with your hands! Our newest Scoot drone leaves epic green and blue LED light trails as it zooms across the room and projects a kaleidoscope of bright multicolor LED lights on ceilings and walls!
To launch, simply toss this hands-free drone in the air and it will hover mid-air. Make a gesture around the hand-controlled drone and see it react to the obstacle and change direction.
---
Hand Operated Drone for Kids or Adults At $24.99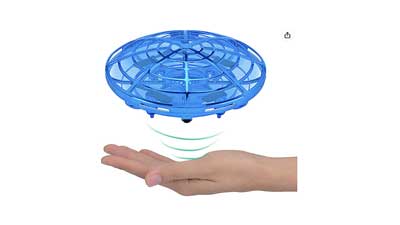 Hand Operated Drone for Kids or Adults - Fly your very own UFO spaceship toy with this new addition to the Scoot drone family
Product SKU: B0964CCTV4
Product Brand: Force1
Product Currency: USD
Product Price: 24.99
Product In-Stock: InStock