Shapeworks Offering a Free Sample of Herbalife Liftoff. You must provide a valid phone number and email address to be eligible for this offer.
---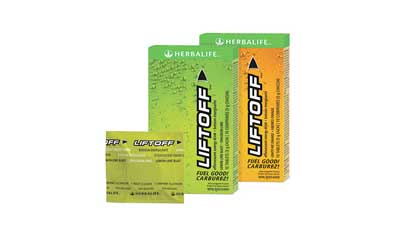 Deal Price:$Free

---
Product Details
Free Sample of Herbalife Liftoff
Herbalife proudly introduces a new kind of energy! Liftoff Dietary Supplement is an effervescent energy drink tablet that does more than giving your body a boost all shift your mind into high gear!*
With an exclusive energy blend of taurine, guarana, caffeine, Panax ginseng, and Ginkgo biloba, Liftoff Dietary Supplement fights fatigue and improves mental performance.*
Liftoff Dietary Supplement also contains 100% of your daily supply of antioxidant Vitamin C and more than 100% of your Vitamins B6 and B12 for enhanced energy production.* Try both refreshing flavors, Ignite-Me Orange and Lemon-Lime Blast, today.
Usage
Just drop one tablet in eight ounces of cool water and start the countdown!
---