De'Xandra Offering a Free DeXandra Eau de Parfum Samples. Please complete the form and we will notify you when your sample has shipped. Limit one per customer and household.
---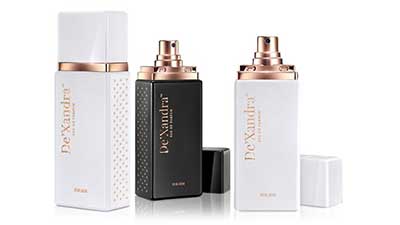 Deal Price:$Free

---
Product Details
Free DeXandra Eau de Parfum Samples
Here You can request a free sample of De'Xandra Eau de Parfum.
WHAT IS DE'XANDRA?
Derived from the Greek name Alexander, Xandra is the feminine version which carries the meaning "defender of mankind". This characteristic is the essence of our aspiration to help people from all walks of life.
Our brand's new look aims to create a long-lasting impression in the minds of its users. It combines form and function into one using minimalist-style designs and petite easy-to-carry bottles for portability.
Limited Time Offer* Fill in your contact information below to receive your free sample.
---