Biomee Offering a free Sample of Free Biomee Skincare Product. Enter voucher ID MC2C2CUS to continue to get free samples and are available to US residents only.
---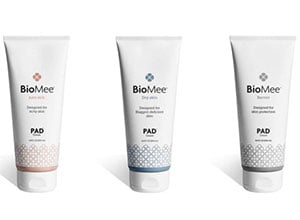 ---
Product Details
Free Biomee Skincare Products
To find out which biomee™ product matches your skin type, please answer a few questions about your skin condition. It only takes 2 minutes to complete
biomee™ is a new skincare line designed to release the formidable forces of a healthy skin ecosystem.
It is designed for chronic inflammatory, dry, itchy, sensitive, or exposed skin.
It is based on decades of research in skin biology and the practical treatment of thousands of people with chronic skin conditions.
biomee™ is fueled by our patented PAD™ Technology that enables a new class of cream distinctively different from conventional creams and lotions.
It is the beginning of a new era – please join us.
---