APPLESEED FOOD is offering a free sample of Estasi deluxe mixed nuts samples. Please complete the form and we will notify you when your sample has shipped. Limit one per customer and household.
---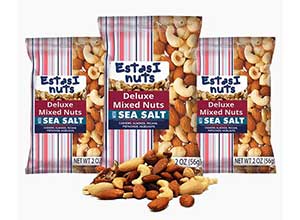 Free Sample

---
Free Estasi deluxe mixed nuts samples
Tired of your mixed nuts being overrun by peanuts? Estasi Deluxe Mixed Nuts is an irresistible mix of cashews, almonds, hazelnuts, pecans, and pistachios. You won't find any peanuts in this mix, just the finest, freshest roasted nuts available. We take pride in the quality of our products because we use only the finest ingredients.
Treat yourself to a perfect mix of our freshly roasted gourmet mixed nuts. Irresistibly delicious, it's the perfect blend that will please the most discriminating fans of nuts*.
We want to share these fantastic nuts with as many people as possible. We are sure our product will exceed your expectations.
---