Dunkin Donuts Coffee K-Cup Original 24*0.4 Oz At $9
OfficeDepot Offering a deal on Dunkin Donuts Coffee K-Cup Original 24*0.4 Oz. Free delivery, Free Store Pickup in 1 Hour
---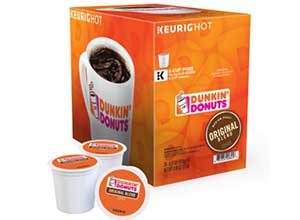 ---
Products Details
Dunkin Donuts Coffee K-Cup Original
Easy-to-use Dunkin' Donuts coffee K-Cup Pods have just enough beans to create a single delicious cup.
Cleans up quickly — just toss the used pod away.
Dunkin' Donuts is not affiliated with Keurig or K-Cup. K-Cup is a registered trademark of Keurig Incorporated.
The original blend is made of 100% Arabica beans for the signature taste that you love.
Includes a pack of 24 original coffee K-Cup Pods.
---