Amazon Offering a deal on DEWALT Screwdriver Bit Set 40-Piece DWA2T40IR. Shipping to store is free, shipping is free
---
---
Product Details
DEWALT Screwdriver Bit Set 40-Piece DWA2T40IR
Connectable accessory storage system to optimize storage space of the drill bits set
Patented bit-bar design of DEWALT bit set allows easy removal of bits and customizable placement
The clear lid of the driver bit set allows you to easily see contents at a glance
Clip latch for secure closing
Small Bulk Storage size fits inside the Small and Medium ToughCase plus (sold separately) – Ideal for organizing loose bits
CNC-machined bit tip for a precise fit in screw heads for reducing cam-out
Extended FlexTorq Zone transfers optimal torque
The magnetic Screw Lock sleeve minimizes drops and reduces wobbles
Product Description
Our FlexTorq Impact Ready accessories now come in a ToughCase+ system, the latest addition to our accessory storage line. The ToughCase+ system is a connectable case system designed to optimize storage space and keep your bits organized. The bit-bar design of the drill driver set allows for easy bit removal and the clear lid allows you to see inside at a glance.
FlexTorq Impact Ready accessories deliver exceptional performance for extreme torque applications. FlexTorq bits in the bit driver set to feature an Extended FlexTorq Zone to transfer optimal torque in hard joint applications, providing durability and longer life.
The bit tip is CNC machined for a precise fit, reducing cam-out under torque. Small Bulk and Small ToughCase+ sizes are available now. Medium and large sizes are coming soon.
---
DEWALT Screwdriver Bit Set 40-Piece DWA2T40IR At $21.84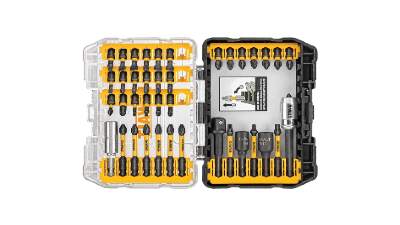 DEWALT Screwdriver Bit Set 40-Piece DWA2T40IR - Connectable accessory storage system to optimize storage space of the drill bits set
Product SKU: B00GMXFK3G
Product Brand: Dewalt
Product Currency: USD
Product Price: 19.68
Product In-Stock: InStock
DEWALT Screwdriver Bit Set 40-Piece DWA2T40IR At $21.84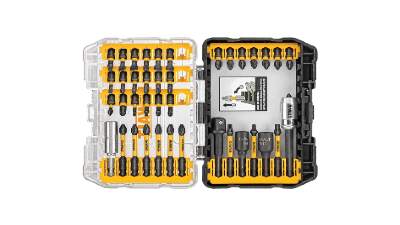 DEWALT Screwdriver Bit Set 40-Piece DWA2T40IR - Connectable accessory storage system to optimize storage space of the drill bits set
Product SKU: B00GMXFK3G
Product Brand: Dewalt
Product Currency: USD
Product Price: 19.68
Product In-Stock: InStock