Walmart Offering a deal on Britannica All New Kids Encyclopedia. Free 2-day delivery on $35+ orders, Pickup not available.Free 90-day returns.
---
---
Product Details
Britannica All New Kids Encyclopedia
This substantial, gifty, and compellingly browsable kids encyclopedia takes Britannica's reputation for authentic, trustworthy information and brings it to a whole new audience. The gorgeous volume explores a wide range of kid-friendly topics, using text, illustrations, infographics, and photography, all in an upscale package that brings with the best of them.
In keeping with Britannica's reputation for expert involvement, each spread includes credit to the expert involved with its creation, and special features highlight some of the most intriguing unsolved puzzles in science, archaeology, history, and engineering.
Chapter topics include Universe, Earth, Material World, Living World, Being Human, Ancient Civilizations, Medieval to Modern, and Today's World and Beyond.
Author
Britannica Group • ISBN:9781912920488 • Format: Hardcover • Publication Date:2020-10-13
---
Britannica All New Kids Encyclopedia At $19.98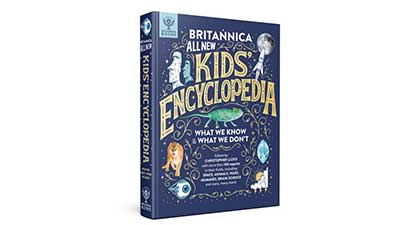 Deal Price:$19.98 Regular Price: $30.00 Discount: $10.02  (33%OFF) Walmart
URL: https://bit.ly/35tGOGn
Author: Christopher Lloyd, J E Luebering, Britannica Group