Walmart Offering a deal on BalanceFrom Rubber Encased Hex Dumbbells 10 lbs Pair. Free 2-day delivery on $35+ orders, Free pickup today.
---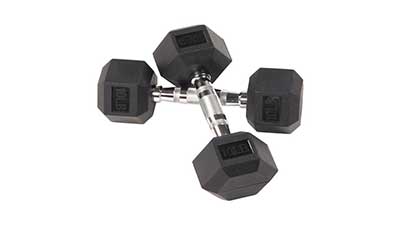 Deal Price:$24.99
Regular Price: $31.74
Discount: $6.75  (21%OFF)

---
Products Details
BalanceFrom Rubber Encased Hex Dumbbells
Wide selection of weights – hex dumbbells set
Dumbbells are hexagon-shaped
Contoured handles
2-year warranty
Products Description
Build total-body strength with the easy-to-use BalanceFrom Rubber Hex Dumbbell. Resistance training is multi-beneficial, helping with total strength, stamina, bone health, calorie burn, and energy levels. Available in a wide variety of weight values from 5 pounds to 50 pounds, the BalanceFrom Rubber Hex Dumbbell helps you create your own customized weight set to complement your home gym (each weight sold in pairs). Choose your desired weight to accommodate a variety of exercises and users of different fitness levels.
Dumbbells are widely used in gyms and homes for various exercise purposes, a great tool for either full-body workouts, or specific muscle groups. High-quality solid cast dumbbells encased in rubber, dumbbells will last throughout the years while protecting your floor. Solid metal chrome finishes contoured (ergo) handles designed to fit comfortably. A textured handle provides a tight and secure grip.
Additionally, each weight occupies minimal space in your home. The hexagonal rubber ends on each weight prevent your weight from rolling away or underfoot during your workout. And the partially-knurled chrome handle provides a non-slip grip to maximize your strength training routine without dropping your dumbbell.
---
BalanceFrom Rubber Encased Hex Dumbbells 10 lbs Pair $24.99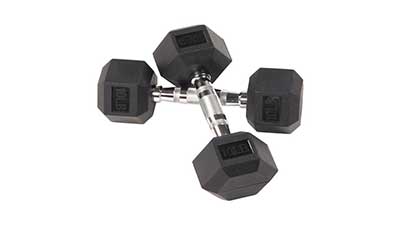 BalanceFrom Rubber Encased Hex Dumbbells - Wide selection of weights, Dumbbells are hexagon-shaped, Contoured handles, 2-year warranty.
Product SKU: 289288685
Product Brand: Everyday Essentials
Product Currency: USD
Product Price: 31.60
Product In-Stock: InStock