Amazon Offering a deal on 4 In 1 Portable Air Conditioner Fan Fast Cooling. Apply a coupon code HPPXS43Y to get it for $28.00. Shipping is Free.
---
---
Product Details
4 In 1 Portable Air Conditioner Fan Fast Cooling
𝐅𝐚𝐬𝐭 𝐂𝐨𝐨𝐥𝐢𝐧𝐠 𝐅𝐚𝐧: The powerful motor sprays a cold breeze quickly after turning it on, and you can feel cool moist air within seconds. What's more, you can feel the cool air instantly when the ice water is added to the water tank. The 4200mAh battery supports a 6-hour use under air cooling and the humidification mode.
4 In 1 Portable Air Conditioner Fan Fast Cooling, 120° Auto Oscillation Evaporative Air Cooler, 4200mAh Air Cooler Fan, Mute USB Desk Fan with Handle for Home, Office, Room, and Outdoors
4 𝐈𝐧 1 𝐌𝐮𝐥𝐭𝐢𝐟𝐮𝐧𝐜𝐭𝐢𝐨𝐧𝐚𝐥: For this price, you can have an air cooler, desk fan, humidifier, and small night light all in one. The air cooler features 3 wind modes (Low/Med/High), 2 humidification modes (continuous steam/ intermittent steam), and a night light mode.
𝐄𝐚𝐬𝐲 𝐭𝐨 𝐜𝐡𝐚𝐫𝐠𝐞&𝐋𝐂𝐃 𝐃𝐢𝐬𝐩𝐥𝐚𝐲: Easy to charge, just connect the USB cable to the devices that support USB ports like wall outlet, computer host, power bank, or USB power strip. The LCD display can show you the power, wind level, and humidification mode, very convenient to control.
120°𝐀𝐮𝐭𝐨 𝐎𝐬𝐜𝐢𝐥𝐥𝐚𝐭𝐢𝐨𝐧 𝐒𝐡𝐚𝐤𝐢𝐧𝐠 𝐇𝐞𝐚𝐝:When you long-press the wind speed button, our fan will turn on the oscillation mode, which delivers cool air in a 120°range from left to right. Besides that, you can adjust the blowing direction up and down to 30 degrees manually to create your own personal cooling zone.
𝐄𝐧𝐞𝐫𝐠𝐲 𝐒𝐚𝐯𝐢𝐧𝐠& 𝐏𝐨𝐫𝐭𝐚𝐛𝐥𝐞 𝐒𝐢𝐳𝐞: Low energy consumption same as the power consumption of a light bulb, uses no freon, much cheaper than running a freon air conditioner in Hot Summer Days. The Air Cooler has compact in size and ultra-lightweight and comes with an invisible handle very portable anywhere.
---
4 In 1 Portable Air Conditioner Fan Fast Cooling At $20.99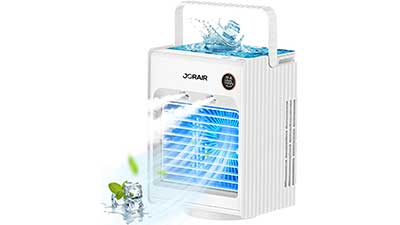 4 In 1 Portable Air Conditioner Fan Fast Cooling - The powerful motor sprays a cold breeze quickly after turning it on, and feel it within seconds
Product SKU: B091CGK3LQ
Product Brand: JORAIR
Product Currency: USD
Product Price: 20.99
Product In-Stock: InStock