200 Phthalate BPA Free Plastic Balls At $27.79
Amazon Offering a deal on Click N' Play Pack of 200 Phthalate Free BPA Free Crush Proof Plastic Ball, Pit Balls – 6 Bright Colors in Reusable and Durable Storage Mesh Bag with Zipper. Shipping is free.
---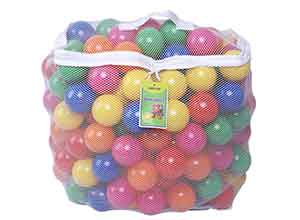 ---
Product Details
200 Phthalate BPA Free Plastic Balls
Pack of 200 pcs Crush Proof Balls. Made with Phthalate Free

Each Ball will withstand over 90 pounds of weight.

Each ball measures 2.3 inches in diameter, a perfect size for a small child's hand.

Great for filling any ball pit, tent, playhouse, kiddie pool, playpen, and a bounce house

Strong and reusable mesh bag for re-storing the balls when not in use.
---