Amazon Offering a deal on 200 Pcs Numbers and Symbols for Craft Projects. Shipping is free w/Prime or on orders of $25 or more.
---
---
Product Details
200 Pcs Numbers and Symbols for Craft Projects
Tiles size: 18×20 mm/ thickness is 4 mm.
Package includes: 100pcs numbers symbols tiles,100pcs Scrabble Letters.
High Quality: Wooden scrabble tiles for handcraft.Smooth surface, clear printing.
Natural Wood: The tiles are made Of 100% natural wood and have a smooth finish and wood texture, clear screen-printed letters, and number values making it easier to read, spelling, and hard to wear off.
Application: early education, games, all kinds of crafts, which is a good helper for DIY, ideal for some wedding/engagement photos ornaments.Great for replacement tiles, arts and crafts, jewelry making, gifts, spelling, etc.
---
Product Description
Package include: 1 Full Sets of 100 Letters. Each set of 100 uses the standard tile distribution for the game: A-9, B-2, C-2, D-4, E-12, F-2, G-3, H-2, I-9, J-1, K-1, L-4, M-2, N-6, O-8, P-2, Q-1, R-6, S-4, T-6, U-4, V-2, W-2, X-1, Y-2, Z-1, and 2 Blanks. numbers symbols tilesThe composition of each set: 0-7, 1-7, 2-7, 3-7, 4-7, 5-7, 6-7, 7-7, 8-7, 9-7, " " -5, "-" -5, "×" -5, "÷" -5, "/" -5, "=" -5.
200 Pcs Numbers and Symbols for Craft Projects At $6.99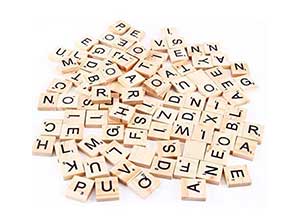 200 Pcs Numbers and Symbols for Craft Projects - Our letter tiles are made of high-grade wood, grain smooth, clear printed letters values
Product SKU: B08W5CWT72
Product Brand: MYYZMY
Product Currency: USD
Product Price: 6.99
Product In-Stock: InStock