Walmart Offering a deal on 12 oz Insulated Paper Hot Coffee Cup. Free delivery. Pickup is available.
---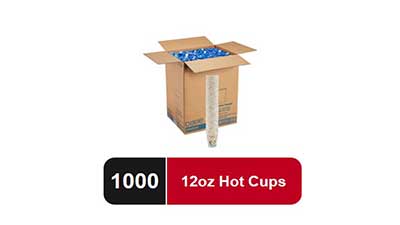 ---
Product details
12 oz Insulated Paper Hot Coffee Cup
Eliminates the need for double-cupping or a beverage sleeve
The non-slip feel of the cup makes it comfortable to hold and sturdy
Cup doesn't sweat or burn your hand when liquid is inside
Cup won't crack like styrofoam and is more convenient to store; smaller storage space approved
Looks like foam, feels like foam, but contains no foam
Product description
Dixie® PerfecTouch® cups and lids give your customers just what they want: a delicious, hot beverage in a sturdy cup that's easy to hold. PerfecTouch® cups (like 5342CD) extend the consumption time of hot beverages, thanks to their unique insulation and paper process. An outer lining provides a non-slip grip that's comfortable to hold with no need for the added expense and waste of cardboard cup sleeves or double-cupping.
Better still, PerfecTouch® cups are a smart, sustainable choice. The polystyrene-free cup construction meets Sustainable Forestry Initiative (SFI®) certification standards and is a USDA Certified Biobased Product. PerfecTouch® insulated cups are made with 40% less material by weight than a multi-wall cup, and 25% less material by weight than a paper cup with sleeve (1*), so there's less waste.
---